We know the Bible says that we are fearfully and wonderfully made. We know that God loved us so much that He sent His Son to die for us. Yet, how often do we truly believe it? How often do we live like we are deeply loved and wonderfully made?
The brand new Dayspring Bible journaling kit,
What's True About You: Your Own Story
is full of words that will build your confidence, give you hope and help you meditate on God's Truth about who you are to Him. As your journal your way through this kit, you will truly begin to understand and believe the truth that you are deeply loved and wonderfully made.
4 devotionals
1 washi tape
2 sheets of clear stickers
10 coordinating paper pieces
3 sheets of alpha stickers
4 petite art prints
1 What's True About You sticker
1 Holley Gerth greeting card
2 felt flowers and 3 felt leaves
4 Free Bonus Printable Pages (delivered via email)
1 message from DaySpring
Packaged in a box with golden yellow tissue paper and a sticker
(These are white stickers!)
Each devotion is written by author Holley Gerth to help us rest in His truth and let lies fall away. I am so excited to dive into these devotions and let truth soak in! The key Scriptures for the devotions are Philippians 1:6, Hebrews 12:1-2, Psalm 57:2, and Proverbs 19:21.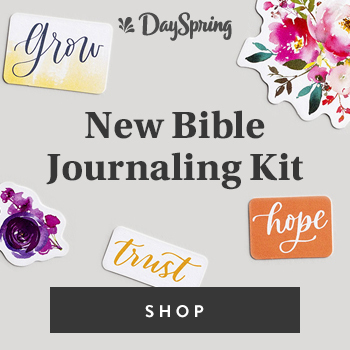 Holley Gerty has a brand new book,
What's True About You
with a beautiful matching journal
Grace, Hope, Possibility
. Holley's book and journal are full of reminders that God says we're deeply loved, wonderfully made, and He has good plans for us. Every page gives new hope, greater confidence, and life-changing encouragement. To purchase your book and journal, click below.