If you are on Facebook, you have probably seen people that are doing, or maybe you are doing it, the Thirty Days of Thankfulness. Each day in November people are posting something they are thankful for. This is awesome! It is so wonderful to take a month and focus on thankfulness. Of course, this is something we should do three-hundred and sixty-five days a year not just thirty. This is one of the reasons I count my blessings here each Monday. But to see so many people sharing things they praise God for is amazing.
I have seen over and over again where people are posting that they are thankful for their families. I, myself, took four days and said that I was thankful for my four children. Then I realized, I posted it on Facebook for all the world to see, but did I tell my children face to face that I praise God for them?
We need to daily tell our children face to face, eye to eye, that we love them and praise God for them. I never want my children to have even the slightest doubt in their mind.
Four years ago this month, we lost my grandfather. My dad knows that his dad loved him. But he never heard the words. He never heard, "I love you," or "I am thankful for you." My grandpa died without saying the words every child, even adult children, deeply desire to hear.
Friends, I encourage you, I challenge you, I beg you, tell your children to their sweet faces how much you love them and how thankful you are for them. Do not let another day pass without saying those important phrases. Make it a daily habit. I am talking more than a quick I love you as you tuck them in at night. Yes, do that! But I am talking about more than that today. A real, heart felt, making eye contact, "I love you and praise God that I have you as my child" at some point during the day.
Have you told your child you love them and praise God for them yet today?
Sweet Blessings~
Looking for Christmas gifts? Check out Christian Book for
Christmas cards, home decor`, jewelry and much more!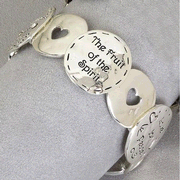 Fruits of The Spirit Bracelet, Silver Color